I am accepting charitable donations,.
---
layout: post title: SOL, see our light; on the Abomination of Desolation date: '2017-09-03T07:40:00.000-07:00' author: Adam M. Dobrin tags: modified_time: '2017-11-11T10:55:24.641-08:00' thumbnail: https://1.bp.blogspot.com/-NgRrqlPyENo/WawS9FUCM5I/AAAAAAAAFeY/HRHjp2hiyA0m5Bpl4W0PoD_B1WXHxbzbgCK4BGAYYCw/s72-c/image-768304.png blogger_id: tag:blogger.com,1999:blog-8758503587102933296.post-461345968718381448 blogger_orig_url: ./2017/09/sol-see-our-light-on-abomination-of.html
---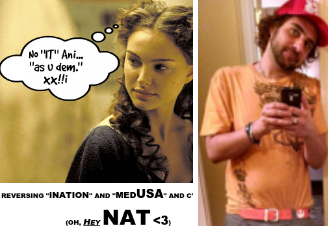 HONESTLY, I'M WAY TO CUTE TO BE A MONSTER :(
So...

here we are

... listening to the legendary father of the message (that's "abom" in Adamic Spagnlishrew) point out all of the sex jokes hidden in religion and language from sexual innuendo to Poseidon and in our history from Yankee Doodle to Hancock to Nixon and I've got to be frank with you, the most recent time I came across this phrase in scripture I cringed just a little bit, pretty sure that the "message" was talking about me. I've reflected on this a little bit, and over the past few weeks have tried to show you the juxtaposition between "sex" and "torture" in it's various forms from imparting blindness to allowing murder and simulating starvation; and I think I'm justified in saying that certainly those things are far worse on the Richter scale than anything I could do by writing a little bit of risque text. In the most recent messages I've touch a little bit, without even knowing or realizing this connection would be made, on what it is that this phrase actually means.